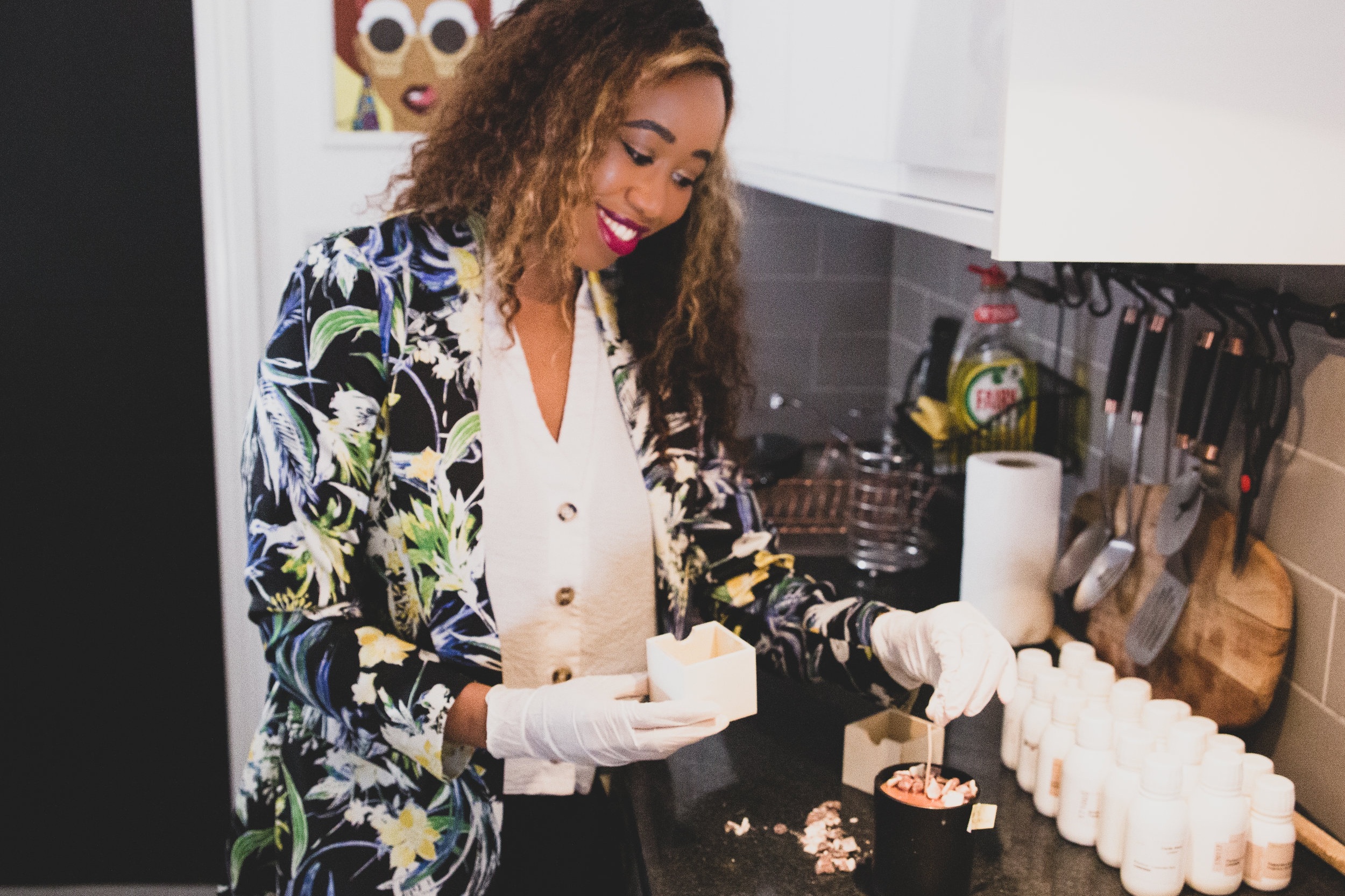 Tribal Unicorn was created in East London by founder, social entrepreneur and candle connoisseur, Angelica Louise 'GeGe'. It started as an outlet for 'after work stress' in her kitchen and quickly turned into a small business venture. GeGe merged her badass obsession with glitter and craft with her interest in mental health and the practice of well-being. She created Tribal Unicorn, a lifestyle brand representing sass, class and empowerment.
Our Candles
Each candle is inspired by London Life. From the sweet pineapple and jerk vibes of Notting Hill Carnival to the candle lit hip hop yoga classes in Shoreditch. Using the highest quality perfumes and soy wax available, Tribal Unicorn is the answer to boring, lacklustre, shop bought candles.
We use organic soy wax for a number of reasons;
cleaner burning - no toxins, carcinogens or pollutants which means it's less likely to trigger allergies. no petrol-carbon soot like you get from petroleum-based paraffin candles.
longer lasting - soy wax burns cooler which means that you can enjoy your soy wax candle for generally 30-50% longer than a paraffin candle.
biodegradable and water soluble. since our candles are made out of soybeans, they are naturally biodegradable which makes accidental spills easier to clean.
We also use biodegradable glitter which contains low levels of heavy metals. Antimony levels in Bio-glitter® are below the limits of detection, effectively zero Whereas, cosmetic polyester glitter can have antimony levels as high as 150ppm. The antimony in polyester is a by-product of a catalyst used in the manufacture of polyester.
Mica powder is only used to decorate our wax melts. Mica a non-toxic mineral that gives off a shimmery and metallic like appearance.
We use soy because it stimulates the economy by utilizing a natural, renewable resource.
Our soy wax is vegan friendly and organic. We only use high quality scents and dyes.
Our glitter mixtures are also 90% biodegradable. We do not use lids to reduce waste and unnecessary packaging costs. All of our wicks are cotton based.
OUR CUSTOMERS
✸ Are fierce and fabulous
✸ They want to make the world a better place
✸ They are goal-getters
✸They'll do it their way
Sister companies
Tribal Unicorn works is association with The Fempire Collective. A female-led collective created to educate and empower women into leadership and entrepreneurial roles. We sponsor events and lead workshops. To find out more visit fempirecollective.com
Use the hashtag #BeARebel to get featured!